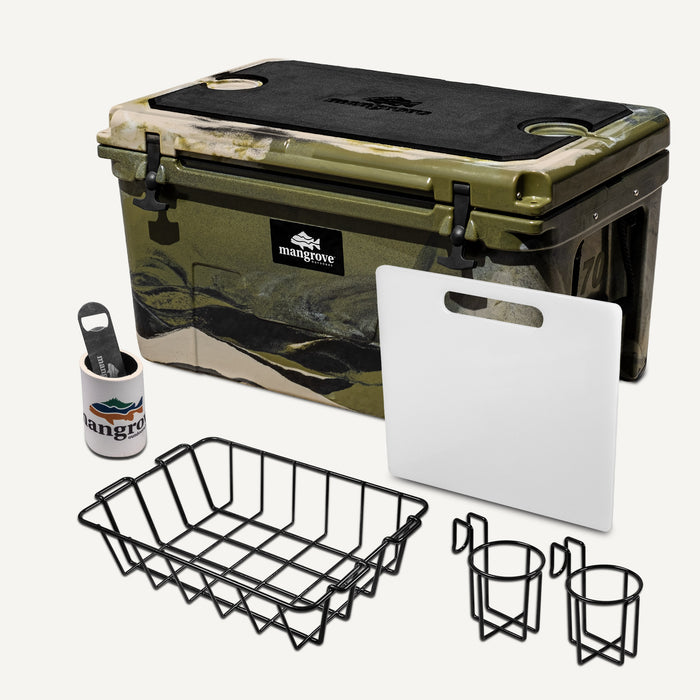 M70L Cooler (Daintree Camo)

Sure to make you one happy camper.
Excellent cooling.
The M70L features polyfoam insulation injected between the cooler walls, ensuring your goods stay ice cold for days. A marine-grade slip-resistant pad protects the top of the cooler and provides extra insulation, a softer seat, and a slip-resistant surface.
Built tough.
The M-Series 70L Cooler features a rotomoulded construction, making it virtually indestructible. Heavy-duty rubber latches tightly seal the cooler shut, and a rubber gasket lines the inside lid to keep the cold air in and prevent leaks. The cooler can also be padlocked to keep those drop bears out.
Free extras included.
The M70L and M45L models come standard with a dry goods basket, drink holder and an acrylic cutting board which also doubles as a divider. 
5 YEAR WARRANTY.
All M-Series Coolers come with a 5 year warranty for peace of mind. Note that this warranty excludes the EVA Pad Top, replacements are available separately. For full warranty details see here.

Features:
70L Capacity (60+ Beers and 4+ bags of ice)

Included cutting board/divider, dry goods basket and drink holder
Padlock-able

Marine-grade slip-resistant pad

Tough construction and polyfoam insulation

Heavy-duty components (latches, gasket, feet and hinges.)
Details/Specifications:
Materials: LDPE, heavy-duty rubber/silicone, stainless steel

BPA Free

Weight [empty] 16kg

Weight [Shipping] 17.5kg

Dimensions [Cooler] 790mm (L) x 460mm (W) x 430mm (H) 

Dimensions [Shipping] 800mm (L) x 470mm (W) x 440mm (H)
Please note: Due to the rotomoulding process, no two coolers are the same. Each cooler is completely unique, and as such patterns may vary slightly.