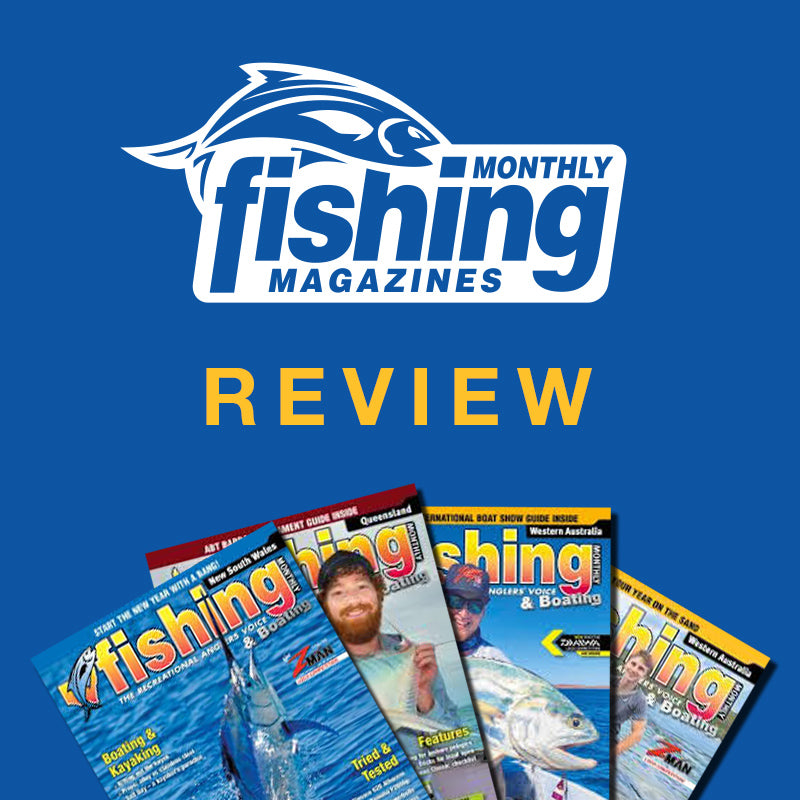 Fishing Monthly Review - Feb 2020 Issue
Mangrove Outdoors M-Series Coolers – built tough, excellent cooling
View the original excerpt here
The 2020 cooler market isn't quite as crowded as the sublimated fishing shirts scene, but the number of offerings – both good and bad – has certainly grown significantly in the last few years.
When Mangrove Outdoors launched mid-way through last year, this Aussie small business set out to break the mould and offer features you won't find in most other coolers at a price that's not going to cost you a second mortgage.
While there are big plans in place to expand the Mangrove Outdoors range, their first offering is fairly simple: three different sized coolers (20L, 45L and 70L) in three colours (Uluru Red, Daintree Camo and Thredbo White).
Accompanying the coolers is a small range of accessories and apparel. Each is well made and features only subtle labelling.
CONSTRUCTION
Rotomolded in the same fashion as your kayak might be, the walls of the coolers are made from BPA-free, UV-stabilised material and are smooth and easy clean after a trip. In between those walls is plenty of high-density poly foam insulation to keep your essentials cooler for longer. From the first time you pick them up you can feel they are built to last, and every cooler has its own unique pattern.
FEATURES
It's clear that plenty of thought and research has been put into configuring each of the current sizes. All come with strong XL-sized hinges which don't protrude from the main body, have comfortable non-slip handles, and oversized rubber latches that keep a tight seal but are easy enough to use that my 9yo daughter can open them. Perhaps my favourite feature though is the marine-grade, slip-resistant pad with a pair of cut-outs that fit your stubby perfectly. It also provides extra insulation and makes it comfy to sit on.
The 45L and 70L models come standard with a dry goods basket, drink holder and an acrylic cutting board which also doubles as a divider. This is very handy for keeping your catch separate from your other food and drinks if you decide to keep a couple for the table.
All models feature lockable lids and tie-down loops so you can leave them in the boat or ute tray without having to worry some scumbag will help themselves to your precious cargo.
On the Mangrove Outdoors website, there's a handy guide of just what you'll fit inside your new icebox, measured by beers + bags of ice. From my own
'research' they are accurate, and are as follows:

•20L: 12beers + one bag of ice
• 45L: 30 beers + three bags of ice
• 70L: 60 beers + four bags of ice

When you add the storage basket to the larger two models you can also keep those other fishing trip essentials fresh and cool, – i.e. a couple of servo pies, a box of Pizza Shapes and two king-sized C
hunky Kit-Kats.
PERFORMANCE
So far so good, but what happens when the sun starts to sizzle and you need to keep the T-bones and marlin cans cold?
This is was the most impressive part for me.
The M-Series coolers exceeded all my expectations when it came to internal temperatures and how long the ice lasted in the red-hot Queensland summer. I've had all three out and about with me camping, at Christmas BBQs and running around the Gold Coast Broadwater islands on a sweltering New Years Day. Each time they stood up to the heat and to my kids constantly opening them, despite growing levels of threats from myself!
Plain old servo party ice was lasting up to three full days in the smaller two coolers, and when I went on a camping trip and took the big rig, I used the supplied info sheet and combined block ice I froze myself with 4L ice-cream containers. I was able to get five days of stable, dependable cooling before heading home for a much-needed shower!
This is with all with very little maintenance from myself as far as opening the bung to drain the excess water. If I was more attentive it would have extended the life of the ice even further, but for the purpose of this review, I wanted to just let it do its thing and report back on what you guys can expect as a basemark for performance.
OVERALL
To say I'm impressed by the Mangrove Outdoors M-Series would be the understatement of the year. My family spends a lot of time in the outdoors, and being able to keep food fresh and drinks icy-cold away from home makes our lives so much better. For my kids to be able to easily grab themselves a drink or snack without me having to get up again might just be my favourite feature.
With prices ranging from $229-$449 with free shipping available to most areas, Mangrove Outdoors are making it easy for Aussie fishos and families to have a premium quality cooler without the price tag you might see from overseas owned companies.
If you're tired of poor performance and durability from your current ice-box, jump onto www.mangroveoutdoors.com.au and order one for yourself.- RUPE (Social Media Manager)